Logo/VH1
Yes henny, you read right. Today I'm spilling the T and telling you the top ten most iconique looks from all 9 seasons. Feel free to tell me why I'm wrong in the comments…
10. Milk as Workroom Ru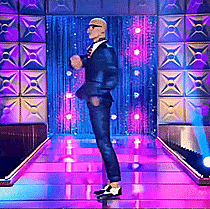 Logo/VH1
Love it or hate it, we were all talking about it. Milk got dragged at the time but now there's a whole challenge based around bearded drag, another of Milk's memorable looks.
9. Sharon Needles Rupocalypse
Logo/VH1
The freakiest contestant ever, and we love her for it. Sharon really made an entrance when she shared the shit out of us with that blood capsule and those nails.
8. Raja's Halloween look
Logo/VH1
It was a close tie between this and her serving Hindu Goddess realness at the season five reunion. She's glam, she's polished and she's kind of freaky. There's really nothing she can't pull off.
7. Nina Bo'Nina Brown as Mickey Mouse
Logo/VH1
Nina is a ground-breaking queen and every look was something we'd never seen anything like. It's a shame she was taken down by her own lack of self-confidence, but we have her heavily padded outfits to remember her by.
6. Vivacious ft Ornacia
Logo/VH1
The first queen to really bring the club kid scene to the show, Vivacious had us all shook throwing shapes across the workroom with lil Ornacia's head bobbing away up there.
5. Voilet Chachki's ribs
Logo/VH1
Voilet teaching us that beauty really is pain, strutting down the runway with the tightest goddamn corset any of us had ever seen. Maybe she actually needed that oxygen mask?
4. Trinity K Bonet's Space Geisha
Logo/VH1
Padme Amidala realness from an unlikely source, Trinity blew us all out of the water when the glided up the runway in this space age get up.
3. Courtney Act's Animal Runway Look
Logo/VH1
Just too much to handle. All the body she's serving, that Black Swan-esque make up and the 'swish' as the wings fly up. Courtney you fishy bitch.
2. Ben De La Crème as The Fly
Logo/VH1
She's a delicious weirdo and she's at her best shocking us all scuttling up the runway as a fly. While I'm here, Dela was robbed of top three and I still want justice.
1. Detox Black and White Reunion
Logo/VH1
Every time I see these photos the impact is still as strong as the first time. Detox literally killed the game dead when she turned up to the reunion in complete greyscale.
<! google_ad_section_start >
Topics